QuoteWerks Real-Time Integrations
The QuoteWerks Real-time Data Module offers several real-time integrations including a Tax Rate lookup service for US postal codes, FedEx & UPS shipping rates service, real-time leasing rates, and real-time pricing & warehouse availability with many of the leading IT/AV distributors, and Online Ordering and Procurement Tracking (shipping tracking, product serial numbers) for IT distributors.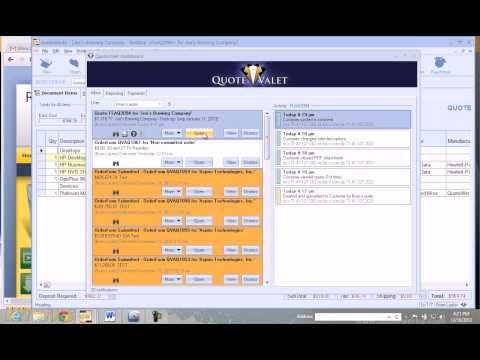 Distributor Real-Time Pricing and Availability
Easily retrieve your distributor pricing and availability from over 15 distributors.
Submit Orders Electronically
Order items for multiple orders electronically with D&H, Ingram Micro, SYNNEX, and Tech Data. Use real-time pricing or your sales rep negotiated prices
Procurement Tracking
Our complete Distributor Integration retrieves your pricing & availability, places electronic orders and tracks your shipments, serial numbers, & receiving.
Save Time looking up Sales Tax rates
Sales Tax Rate lookup service included in the Real-Time module. Retrieve sales tax rates by your customer's zip code.
FedEx & UPS Integration
Our shipping integration with FedEx and UPS enables you to obtain real-time shipping quotes from your carriers, & serial numbers.
Real-time Leasing Integration
Built-in lease payment calculation support, including a leasing integration with GreatAmerica Financial Services and Ingram Micro Lease-IT!.
Dell Premier Integration
The QuoteWerks Dell integration enables Dell Premier Partners with Punchout credentials, the ability to import quotes, create order requisitions, and even place orders with Dell.
Real-time Licensing
The real-time data module licensing and pricing is based on the "reserved concurrency" model. Whenever a user on the network uses the real-time data module, a license is reserved for that user and is not released until the user exits QuoteWerks. The number of real-time licenses does not need to match the total number of QuoteWerks licenses. So, for example, in a 2-user installation of QuoteWerks with a single Real-time license, if user 1 logs into QuoteWerks and uses the Real-time pricing first, user 2 will not be able to use Real-time pricing until user 1 logs out of QuoteWerks.